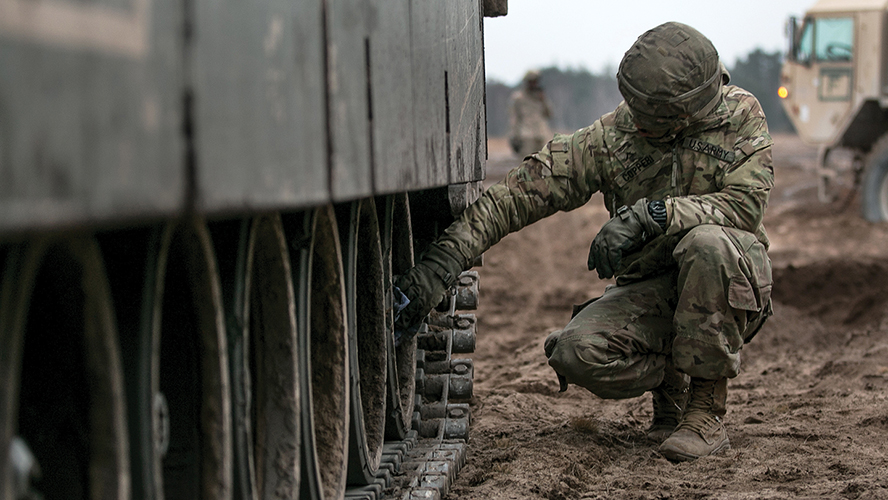 This article first appeared in National Defense Magazine on 9/26/2018.

By Sonja Jordan
The Army is taking advantage of artificial intelligence to better predict when vehicles will break down or need parts replaced.
The service recently awarded AI company Uptake a $1 million contract facilitated by the Defense Innovation Unit to integrate the company's predictive maintenance software into Bradley Fighting Vehicles.
The Army plans to use it to anticipate component failures and reduce the amount of unplanned maintenance, said Matthew Lehner, a spokesperson for Uptake. "The end result is increasing the readiness of the fleet," he said.
Vehicles such as the Bradley must be ready at a moment's notice, said Ganesh Bell, president of the Chicago-based company. "Leveraging AI will provide the United States a strategic edge to keep our country secure and the war­fighter safe," he said in a statement.
Data for the software is being gathered via sensors and telematics already installed on the vehicle. It will be collected and combined with Uptake's artificial intelligence software to give insight into when a part may need maintenance, Lehner said.
The military wants to increase readiness for commanders and individual troops, he said. The system will give them "an empirical sense of what is the health of that Bradley vehicle," he noted.
Travis Burton, a project manager at the Defense Innovation Unit, said predictive maintenance will also increase equipment availability. Burton compared predictive maintenance to the way a car is taken in for oil checks.
"What we're trying to do is go from a scheduled maintenance concept … [where] you bring your car in every 5,000 miles for an oil change, to a predictive [maintenance] noting which parts are most likely to fail on your car and when, based on a number of data sources," he said in an interview.
"That's where … the subset of artificial intelligence that is machine learning really comes in," he added. "That's what enables you to ingest vast amounts of data and be able to make those predictions."
The Pentagon recently stood up an organization called the Joint Artificial Intelligence Center, which aims to develop and integrate new AI and machine learning tools across the department.
James Marceau, an aerospace and defense expert at the consulting firm PA Aerospace and Defense, said predictive maintenance has the capability to reduce costs and improve effectiveness for combatant commanders.
"When you have the right contracts in place, the right intelligence and the right visibility and transparency across the value chain and across the lifecycle, you have the opportunity to achieve both of those objectives if you have the right collaboration, communication … between government and industry," he said.
There is interesting and significant innovation taking place in predictive maintenance, he said. "I believe the U.S. military will continue to invest in predictive analytics and preventative maintenance, and predictive maintenance solutions and opportunities."
These approaches have been shown to help increase flight hours and utilization of assets, he added.
Burton noted there has been a "huge demand signal" within the Defense Department for predictive maintenance.
"The Bradley has been looking for capability like this for some time," he added. "We were able to work with the program office on the Bradley side to get them an other transaction authority agreement with Uptake to do this work."
Other transaction authorities, or OTAs, have become popular contracting methods because they allow acquisition officials to get their hands on new technology faster.
Development of the Uptake prototype will span 14 months, he said.
"At the end of the 14 months, there should be an opportunity to transition to a production OTA, and then that opens up the prototype to what becomes essentially a production product," Burton said.
From there, "anyone across the DoD can get on contract with Uptake to perform a similar service."
The 14-month period includes time for development and assessment, he added.
If the prototype stage goes well, there is a possibility for expansion to other vehicles, as well as other branches of the military, Burton said.
"We may consider a limited expansion for the purpose of further evaluation, but once it goes to production, then it expands to whoever wants it," he added.
Uptake was selected via DIU's commercial solutions opening mechanism, or CSO, Burton said. Solicitations are made on its website, and members of industry submit solution briefs.
Other transaction authorities are needed to keep up with commercial innovators in order to leverage their fast-developing technology, Burton noted.
Speed is the aim of the CSO mechanism, and 50 to 90 days is the contracting goal, Burton said.
Lehner said once the work for the Bradley project is complete, Uptake hopes the Army will extend the effort.
Burton noted that the Defense Innovation Unit expects to see positive results. "The fact that folks are clamoring for it within the DoD, I think is a good sign this is going to be very fruitful," he added.
DIU — the brainchild of former Secretary of Defense Ash Carter — focuses on a number of different technology areas including autonomy, artificial intelligence and machine learning. It is meant to connect the Pentagon with nontraditional companies. Based in Silicon Valley, it also has offices in Washington, D.C., Boston and Austin, Texas. In August, the Defense Innovation Unit-Experiential was redesignated Defense Innovation Unit to further emphasize its permanence within the department.
The organization conducts market research and meets with the most promising companies, Burton said.
"We bring them in for pitches, and from there we downselect to the company that we think … [is] best suited to pair up with our DoD customers," he added. "We're enabling the innovation of the customer and the DoD, and connecting them to the commercial innovation on the other side."
Marceau said collaboration with industry is crucial when it comes to injecting major Defense Department programs with artificial intelligence.
"Industry will far outspend in magnitude … what the DoD will spend on some of these cutting-edge, innovative technology solutions," he said.
Burton noted that the Pentagon had tried various efforts to perform predictive maintenance before, but was not able to access nontraditional companies.
"One of the keys to what commercial innovation brings to the DoD is how fast they move," he said. "That's what we look for when we go out and talk with these companies and bring them in."
Many commercial firms are already employing machine learning for predictive maintenance. Caterpillar, Airbus and other organizations within the energy sector have been leveraging AI to gain insight into the health of their equipment, as well as to increase availability of their vehicles, Burton said.
Marceau said: "Anytime you look at preventative maintenance, you have the opportunity to dramatically reduce the lifecycle cost of a major asset and of a major program." That could enable the Defense Department to invest those saved dollars in other capabilities, he added.